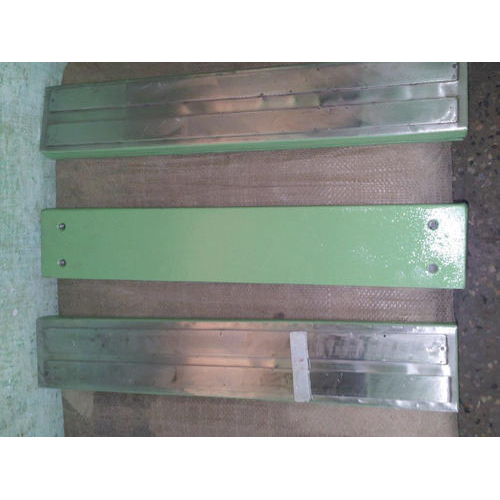 Industrial Magnet Plates
Product Description
Industrial Magnet Plates are ideally suited for removing damaged metal and ferrous contaminants and slopping chute applications. These plates are manufactured by using ferrite magnets & with high energy permanent magnets place within the magnetic circuit. This process involves the attraction of the flowing iron particles when the material is fed into the machine. It is widely used in industries related to feed, pharmaceutical, plastic, chemicals and minerals. Our offered Industrial Magnet Plates are known for their unique features like user friendly and light weight, simple to install and operate and compact design.
Technical Specification
Description

Magnet Plate

Material

Neodymium-Iron-Boron

Working Temperature

Grade

Max. Operating Temperatures

N35-N52

80°C (176°F)

33M- 48M

100°C (212°F)

33H-48H

120°C (248°F)

30SH-45SH

150°C (302°F)

30UH-40UH

180°C (356°F)

28EH-38EH

200°C (392°F)

28AH-35AH

220°C (428°F)

Magnet Shape

Disc, Cylinder, Block, Ring, Countersunk, Segment, Trapezoid, Irregular shapes and more. Customized shapes for Magnet Plates are available.

Magnet Coating

Ni-Cu-Ni, Nickel, Zn, Gold, Silver, Copper, Epoxy, Chemical, PTFE, Parylene, Everlube, Passivation and more.

Technology Advantage

Depending on advanced R&D center, Quality control team and professional machining technicians, we can surpass our competitors in the stability of quality and superiority of property.

Delivery Advantage

The lead time must be 2-5 days quicker than industry average because of more flexible machine process control.

Price Advantage

The price is 5-10% cheaper than industry average because of an excellent and efficient management system.

Application

Magnet Plates are widely used in many fields, such as motors, sensors, microphones, wind turbines, wind generators, VCMs in hard disk drives, printer, switchboard, loudspeakers, magnetic separation, magnetic hooks, magnetic holder, magnetic chuck, common daily use, and so on.
Contact Us
Office No. F/222, Udhan Udhyognagar Sangh Complex, Road No 10,Udhyognagar, Udhna Surat Gujarat India +918037304261
Phone :+918037304261